That Wife
A trip to the library would have been free if I had stayed away from the used book store. 🙂
In the Favorite Gratis Activity Challenge, I have to go with my visits with the sheep and lambs. It's great going to the dike, getting on and just walk among these animals, the babies sometimes just days old. I bring some bread and literally can stay for hours. On top of things, the surroundings are just great: water, happy people (who is not happy around newly born lambs), birds, grass, silence.
My favorite April activity? Riding my new bike! Luckily, for this challenge free is defined as "things you don't spend money on to participate in right then," so the cost of my new bike doesn't count!
I love walking. I've walked to school all the way until last year (Elementary, Junior High, High School and the first three years of university). I walk at lunch. I walk to counseling. I walk down a busy street after counseling to beat the bus to the next bus stop. I walk home from the train after work. Mr. Bean and I usually go for weekly walks around our community. So, it made sense that when I was out in Whitecourt with work, I would go for a walk during my free time.
Kate went to a taping of the Rachel Ray show! Read about her experience here.
Today I had absolutely nothing planned, the weather was lovely, and I decided it would be a perfect day to do one of my favorite things: ride my bike. My new year's resolution was to enter a bike race, and in order to do that I've got to actually ride my bike. I haven't been doing much of it lately because I'm busy and stuff and blah blah blah. But I rode today! My shoulders and legs will be sore tomorrow, but no pain no gain, right?
Terri
My "free" challenge this month is taking advantage of the fact that my fiance and I live on a beautiful little lake. I'm unemployed, so I don't have a lot of money for extra's. But we have beauty and nature practically in our front yard. I took this picture this morning right after sunrise.
On Good Friday, and after spending a night spending a lot of money seeing the Hannah Montana movie and going bowling, we (me, the roomie and her beau) dropped by the roomie's beau's home, whipped up some hot chocolate and took it to the park.
Erin
I instantly knew what my favorite free activity is – hanging out with my husband.  He travels a lot for work too, and whenever we are together we are both so happy just being in each other's company – even if we are just washing dishes together.  On (Easter) Sunday we decided to do something together that we'd never done before – kayaking!  Since we are both know-it-alls, we spent the first 10 minutes trying to tell the other the best way to paddle – and then we spent the next several hours laughing.
I love being able to lay out on my lawn with a book on a sunny day.  At the beginning of April I was unsure if this would be plausible since we hadn't seen too many sunny, warm days, but this past week has been beautiful and I had the pleasure of enjoying the sunshine, and my book, today!
I have a lot of favorite free activities, but heading up to the lake and riding on a sea scooter (Sea-Doo) is one of my new favorite things to do.  My new husband's parents own a lake home and have a boat and sea scooter.  We have had a lot of fun going up to visit on the weekends and learning how to ride a sea scooter.  It's free (for us) and a great way to go and spend time bonding with his family!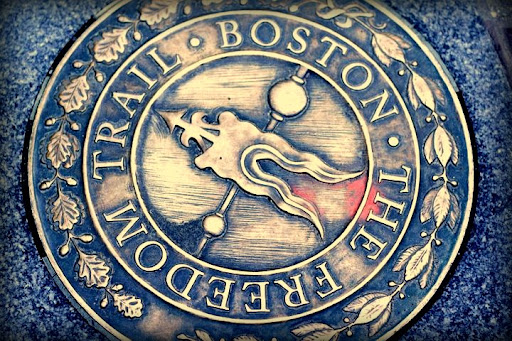 I love going to the popular tourist spots in Boston and Cambridge. My favorite is the freedom trail because it has a lot of history behind it, plus, its free. Even though I live in Cambridge, most of my time is spent studying or working. So, when possible, it's always nice to take some time off and explore the area I live in. Being a tourist in your own city is convenient and fun!
My husband and I went to the ocean on Palm Sunday. A bit non-traditional, I suppose, but it actually fit in quite well with the celebratory feel of the day.
So, like Jenna, I love spending time at the library. I could be there for hours and hours and not even notice, just walking the stacks thinking about what to read. Didn't want to be a copy cat, so here I am in a related, but maybe even better for me free activity: reading a good book. I'm reading A Girl Named Zippy, by Haven Kimmel (who lives near me) and I have spent quite a few hours lost in this book. I love how the time goes by so quickly when you're immersed in a story. And it was totally free!
I have many favourite free activities, but one I particularly enjoy is afternoons in the park with friends.
Cristin
My "for free" activity is volunteering with the American Red Cross in Greater New York.  Here's a photo of a CPR training that I did in Crown Heights, Brooklyn, with high school-aged girl scouts, their mothers, and troop leaders. We got a grant from a state assemblymen to provide $4,000 of preparedness materials and classes, and I used part of that money to offer this Infant and Child CPR/AED class in a community center.  It was a really awesome way to spend time making my city a better place and connecting with new people.
Volunteering is fun, rewarding, educational, and FREE!  I'd suggest the Red Cross as a great point for people to start if they are looking to make a non-faith based commitment.