Scroll to the bottom of this post to find the links to DITL Christmas posts by other bloggers!
This Christmas, for whatever reason, I spent a little bit of time mourning the changes that have happened in our family over time. When I was growing up, all of my parent's siblings in either side came home for Christmas (or lived close enough to just drive over) and we would have 10+ cousins of varying ages running around, playing games, watching movies, and ripping presents open. Now that we're older everyone is spreading out and most are spending Christmas with their own immediate families, and so this year T1 was the only young child there on both days. Normally I love change, but these Christmas memories are so special to me, and I naively wanted my own children to have the exact same experiences that I did.
Of course that's not how it will happen, and you know what? That's okay. My dad called me a few days after we returned to Chicago and he said it was the best Christmas he could remember. I agreed! Our holidays don't have to be the exact same year to year to be meaningful and special.
So this is what Christmas looks like for us in 2011. Next year we might be in Utah again, so it will look completely different. The year after that? Who knows.  You can see Christmas 2010 here, Christmas 2009 here, and Christmas 208 in several parts, here, here, here, here, here, and here.
I woke up on Christmas Eve this year with a sore throat and the beginning of a hacking cough that lasted through the holidays.
T1 ate peanut butter and jam waffles with bananas for breakfast.

And then we took a shower together. Showering with him is such a wonderful experience, I'll be so sad when he outgrows it.

I got dressed and ready for the day, doing my hair in one of my favorite hairstyles, the Gibson Tuck. I wanted to do full hair and makeup because I knew lots of pictures would be taken (guess what, my mom and sister, both photographers, had the same thought!)

T1 had his hair done as well, by my mom (no makeup for him though).

We get to work int he kitchen because it's time for Christmas Eve brunch! This isn't a tradition for us, though I can see it being something we do in the future. It was planned because we were spending Christmas Eve evening at my grandma's house, and Christmas Eve day at my aunt's house, and we wanted some time when it was just our family (mom, dad, me, husband, baby, sister, brother-in-law).
Brunch as sausage, waffles with whipped cream and strawberries, and this wonderful baked eggs and tomato parmesan dish.

Oh and I can't forget about the Choffy! It's all the rage in Utah I hear, and my mom loves it as well. Strawberry waffles are a "thing" for my family, so we have them for most special occasions.

Right as we were finishing brunch, our friends came over for a little gift exchange time.

My mom gave a french press, and some choffy. It was like a choffy Christmas for us.

T1 woke up and the kids were EXCITED. They love him.

Shay and BIL did the clean-up.

And I worked with the girls to decorate the tree (we hadn't done so yet because I wanted to wait until my sister was there). In the middle you can see Scary Tree Elf. He resides in our tree and watches over the presents to make sure no one does any peeking.

That Husband and I slipped into my room to watch some Parks and Recreation on my ipad while my dad shared snowmobiling videos with his friend. After our friends left we watched this gorgeously done video about the birth of Christ.

We kicked off present time with farmer hats from my dad, one for each of us. We opened gifts on Christmas Eve for a few reasons. First, no santa means we aren't constrained to doing it on Christmas morning. Second, because Christmas was on Sunday we had to go to church that morning and we didn't want to get up any earlier than we had to. My mom wanted to open gifts really early Christmas Eve morning instead (she does such a good job buying everyone gifts and gets so excited to see us all open them!) but we all outnumbered her and voted to do it Christmas Eve afternoon.

We decided to open presents from youngest to oldest. T1 half-heartedly ripped into one of his.

Honestly, all he wanted to do was play Fish School.

I actually learned about the little pink book via some advertising in my own sidebar. 🙂
I think I saw on Twitter that these gloves you can use your iDevice with were a very popular gift this year? I'm very excited to use mine.


My sister and my mom are the best gift givers in the family because they have such great taste. On the left we have my mom opening a necklace from my sister. On the right my sister opening a pair of shoes from my mom.
One of my favorite gifts was this eye mask! I like how tight it fits against my eyes.

T1 gave up on opening his own gifts, instead devoting his time to using daddy's mouse as a phone.

And listening to music in daddy's new headphones.

TH's favorite gift was his new kindle! He wants to get rid of all of our books and go digital.

My mom is always prepared. She gave me the Ivanka Trump heels on the left, but they were way too small for my wide fat feet. She left the room and came back with the pair you see on the right, which fit beautifully! I was really hoping for a new pair of plain black pumps that look more sophisticated than my old round-toed Steve Maddens.

Shay and her husband were surprised with a new Blender. I always love watching people open the big surprise gift, especially when it's something they were really hoping for (but don't really dare hope that they'll get it!)

My mom has always been funny about the way she gives gifts (it makes us all laugh and we love it). For a few years she didn't label the presents at all, and then she would forget who they belonged to. So I would open a curling iron, get excited, and be told I had to give it to my sister because it was supposed to go to her the whole time! Shay and I were not a fan of this. My mom tested out a new system this year. I opened a gift, like this darling yellow dutch oven, and then was told I could keep the yellow beauty, or open another gift and see what it was. I of course chose to open another gift (there was no danger of losing the crock pot if I liked it better than Gift B 🙂 ).
Gift B ended up being a leather jacket. Due to the weight of the dutch oven (how would we get it home?), I chose to go with the leather jacket. My mom had a second leather jacket on hand in case I liked that one better, and somehow my sister weaseled her way into claiming that one (without giving up one of her gifts in return!). She's sneaky like that.

After the gift wrapping was done my grandma called and ask where we were. We panicked thinking we were late and got everything in the car as fast as possible.

After looking at myself in these picture, I realized I liked the jacket, but that I'd like to look for something a bit more slimming. I plan to exchange it (which my mom is perfectly happy with, thank goodness).

On our way we drove past Saddle Mountain. So named because it looks like it has a saddle in it. Can you see it?

Dinner was a wonderful hodge podge of a feast. A variety of breads, meats, cheeses, fruits, and desserts. I personally contributed 44 clove garlic soup, nutella dip, cookie dough dip, and Krakow Cake (made with TH, a family recipe from Poland that I'll post soon!) The cookie dough dip is the only one I won't be making again.

One of my favorite pictures from the weekend. Love.

After dinner we did the same thing we always do, migrated into the family room to watch old home movies filmed by my grandma throughout the 90's. These films are priceless treasures and I'm so happy to have them digitized and on my hard drive for my kids to watch.

We kicked off another round of present opening with Andersen brand necklaces from my aunt.

TH was given an (annoying) helicopter that beeped and made noises, and my cousin gave all the girls coordinating pairs of nail polish.

T1 demonstrated his love of balancing things on his head for everyone.

We did a cousin gift exchange, and I was given a mom shirt+baby sweatshirt set by my cousin Callen. They say "My kid is cuter than your kid" and "My mom is hotter than your mom".

I drew TH in the exchange and I gave him a soap holder. It's the only gift I gave him for Christmas (he prefers I don't ever give him gifts) and he laughed when he saw it. He really, really likes bar soap.

A ladybug hat made by grandma!

He might look like he doesn't like it, but he does. That's his "I'm concentrating really, really hard face".

Shay took this one. Nice blogging photography Shay!

You look beautiful here mom. 🙂 My grandma made these scarves for the generation above me, and I admit I was drooling over them. They're a lot of work for her, but they are stunning!

After presents it was time for my favorite Christmas tradition, the sock. Grandpa fills an old tube sock with change, we reach in and do our best to grab as many coins as possible.

I got myself warmed up and ready to go.

Participants reach in in order of age, so I went, and TH went a few turns later. Whenever you go, you have someone hold your plastic bag next to the sock opening because you only get to keep what makes it into your bag.

After the sock, things quieted down slowly. We all counted our money (I didn't get the most (a competition between the cousins each year, my female teenage cousin won)), ate some more, and slowly made our way to the car.

We woke up Sunday morning and went to church at 10am. I sang in the choir and wanted to be festive with a red shirt (thrifted of course). My sister loaned me the nylons and I wore my new shoes from the day before for the first time.

After church we drove back to pretty much the same place we were before, but we took a different road and ended up at a different house (my grandma and aunt/uncle live on the same road less than half a mile from each other).

When we got there, everyone was gathered around the projector in the media room. My cousin, on his mission in Brazil, was on the phone! Missionaries only get to call home twice a year for their entire two year mission, once on Mother's Day and once on Christmas Day, so this is a really big deal. Everyone was excited to talk to him, but my aunt in particular was deliriously happy.
My cousin's gift to his parents was this trio of figurines, representing the three of them on the day he went through the temple. The outfits even match what they were wearing on that day. Amazing!
We managed to keep T1 awake for a few minutes so he could say hello to my cousin (my cousin's mission farewell and his baby blessing were on the same day so I feel like they have a little bit of a connection) and then took him upstairs for a nap.

I snacked on some delicious meat with Ritz crackers while they finished up the phone call. I was getting hungry, but we couldn't eat until the 1 hour phone call was over.
While lunch was put together, my grandma started passing out presents. They have a dairy farm, so at least one of us usually ends up with a dairy themed ornament.

The three oldest girl (my cousin, myself, and my sister) got socks that smelled kind of like the Strawberry Shortcake doll we used to play with at her house. I'm guessing that smell only lasts until you wear them once?

Hooray! Sister picture. Sadly this picture reminded me that we didn't get a single picture of the immediate family together during the entire break. I have to make sure this doesn't happen next year!

Our socks were silly and fun gifts, but some of them were touching as well.
Lunch was delicious, salmon and salad and soup. On this side of the family we don't have set dishes that we have every year, at least I don't remember any, but I haven't been helping in the kitchen for very long. I contributed one of my favorite soups, Pear and Butternut Squash.

After lunch I snuck away to take a nap (the baby was still sleeping), which lasted something like 3 hours. I think T1 ended up sleeping for something like 5? When we woke up it was time for more noshing downstairs. I baked some cream cheese snickerdoodles, which were a raging hit but messy to make (I'll write about them on Pinterest Fail soon).

The rest of the night was spent playing Risk, shooting baskets in the indoor gym, playing pool, and dancing on the Kinect. Although I love tradition and family togetherness, after a long weekend of Christmas celebrating it was nice to spread throughout the house and spend our time however we wanted.
Now, it's time to link to what you guys shared with me!
Caitlin celebrated Christmas pregnant this year.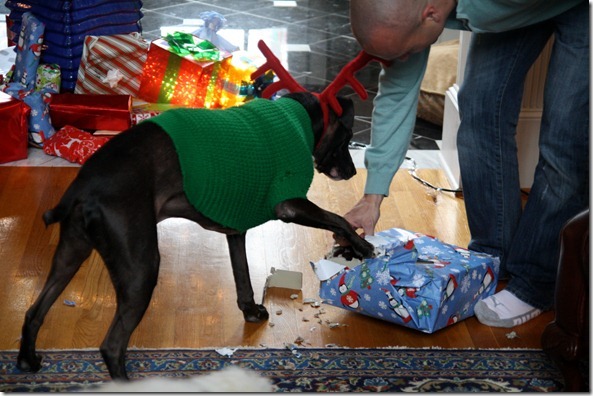 Amber celebrated her Christmas with a vegetarian dinner plate.

Megg had both her parents in town, and they ended Christmas Eve evening with a round of monopoly. (Her dad won, she says he always wins.)

Msleetobe celebrated her Christmas in Seoul!
Hannah couldn't sleep on Christmas Eve, so she got up to clean the living room at 1 am. Haha.
Jackie wrote a post that gives some really wonderful insight into how Catholics celebrate Christmas.
Katie somehow managed to find herself in three different Texas cities at some point during Christmas Day.
Kate's family had a very dramatic Christmas, including a car chase from one 7-11 to another in order to find some butter on Christmas day.
LPC doesn't have any pictures, but she wrote a beautiful post (as always) on forgetting the salsa for Christmas burritos (and how it all turned out okay after all).
I have a late addition to add to this post, Cecy's Christmas spent in France! Over Christmas, they usually sleep in a castle. A real castle! Part I, Part II, and Part III.